We recently acquired a (FREE!) pew from an old church that's being renovated into a business by Handy Hubby's father.  Here it is hangin' out in the Man Shed…
Did I mention it's covered in ugly red velvet-like fabric?  Not to worry.  Here's Handy Hubby hard at work pulling out the zillion staples. 
After we get the red fabric completely removed AND cut the backrest down AND shorten it up a little AND sand it AND prime it AND paint it AND polyurethane it AND recover it with outdoor cushions (whew!)…we think it will look great on our front porch that has zero seating currently.  Unless concrete stoops count as seating.
The long narrow shape of the pew is perfect for our long narrow porch.
We're thinking of painting the pew (which should look more like a bench once the back is cut down) a color similar to this… (C'mon, did you really think I was gonna let that orange oak fly?)
…and then adding an outdoor cushion in a celery green as shown below.
I could find a white or green ceramic garden stool to act as a side table or extra seating.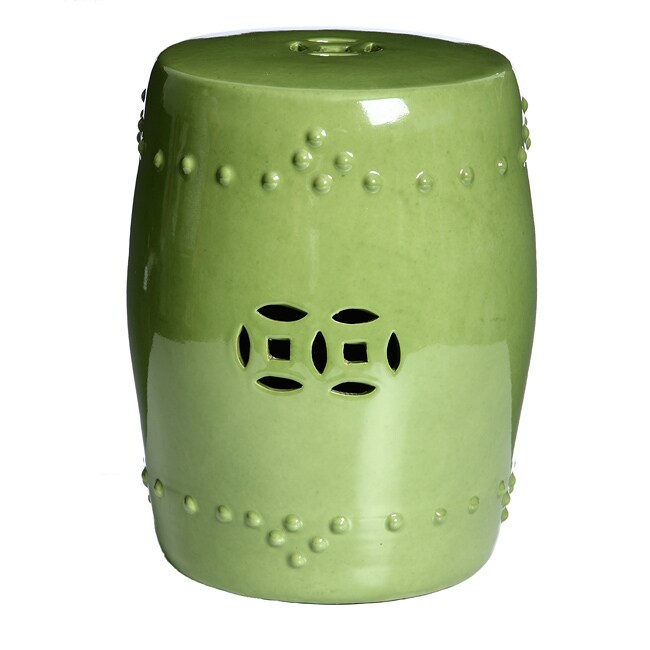 I want to try my hand at stenciling some numbered pillows like these…
…to display our house number.  I'll probably whip up a few planters in lime to pop.
And a geometric indoor/outdoor rug like this one…
…could really warm up and ground the area.  Then our neighbors would have somewhere to sit and talk instead of hangin' their legs off the front of our bare concrete porch.  Yep!  We live in a culdesac where, at 6:00 p.m. (weather permitting), everyone (adults and kids alike) are outside shootin' the breeze.  Might as well make it pretty!